This was the warmest NYE I remember. We could go out in a sweater, didn't need a jacket. Crazy.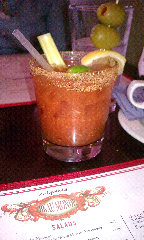 We headed out for brunch at one our favorite 'special occasion only' restaurants, (special occasion only bc its so severely overpriced) Beau Monde.
Oh what a treat! A bloody mary to start, theirs are fantastic. A perfect mix of tomato & clam juice, plus that traditional spice mix! This drink can solve all your problems.
We gorged ourselves on crepes stuffed with tender chicken & veggies in a mild wine sauce; eggs mushrooms & goat cheese & then, for dessert, apples, dulce de leche & vanilla ice cream!
We were stuffed & it was 50 degrees out, so we strolled around the neighborhood. If you have time to wander OFF of South st. I highly recommend it, you'll find amazing treasures.
Fast forward to 8ish pm & dinner time. The warm weather continued through the night, so we took advantage & fired up the bbq. T-bones with salt, pepper & fresh rosemary; sauteed mushrooms & onions mixed with blue cheese & smashed potatoes.
All chased down with an original Four Loco we had hidding in the back of our fridge. Which means it has caffeine & alcohol. And as my brother reminded me, they only removed the caffeine from it, not the alcohol.
We partied in our PJs till the wee hours...Happy new years all!